Nightly we present TRANSITION TRANSMISSION CINEMA, providing a host of themed mirrored movie magic Sunday through Friday nights, always leading off with a family friendly (but still weird as heck) feature.
TRANSITION TRANSMISSION CINEMA provides a space to morph your experience with virtual reality under the desert stars. Each evening our mirrored projection system will present Metamorphosis-themed twinned tales of transformation across our giant 50-foot screen. We begin every night with a family-friendly feature (burner kids are some of our best customers!) and each of our four nightly films is preceded by a curiously curated set of thematic short films and animations.
In addition to TRANSITION TRANSMISSION CINEMA's inclusion in the Burning Man What Where When, our illuminated whiteboard will announce the evening's offerings and our lit marquee will guide the way.
As always, Red Vines will be provided.
This year's offerings include The Guyer, Eternal Sunshine of the Spotless Mind, The Lure, The Calamari Wrestler, Under the Skin, Donkey Skin, The Long Kiss Goodnight, The Little Mermaid, The Lobster, Ladyhawke, Phantom of the Paradise, Defending Your Life, Now Voyager, Auntie Mame, My Fair Lady, I Am Dragon, Tommy, Beasts of the Southern Wild, Dr. Jekyll and Sister Hyde, Being John Malkovich, The Witches, Splice – just to name a few. [Titles are subject to change. It's Burning Man, man…]
SPECIAL EVENT:  THURSDAY, TRANSITION TRANSMISSION CINEMA will host TVC15: Bowie All Night – with Labyrinth, The Man Who Fell to Earth, and 3+ hours of rare Bowie videos as a tribute to the most prolific shapeshifter of modern times.
The idea that the piece of work is not finished until the audience comes to it and adds their own interpretation, and what the piece of art is about is the grey space in the middle. That grey space in the middle is what the 21st century is going to be all about.

David Bowie, BBC, 1999
Liminal Labs welcomes you to the gray space in the middle and stands ready to help you morph into your newest incarnation.
---
The Lure (Poland, 2015, Agnieszka Smoczynska)
Mermaid sisters go '80s clubbing for a feminist twist on the Little Mermaid.

---
Dragon: Love is a Scary Story (Russia, 2015)
The dragon takes a bride who is not content to die.

---
Being John Malkovich (US, 1998, Spike Jonze)
A puppeteer stumbles into Malkovich's brain, offering others the chance to "be" the actor.

---
Ladyhawke (US, 1986, Richard Donner, rip)
Cursed hawk Michelle Pfeiffer regains her human form – and time with boo Rutger Hauer – only during twilight.

---
Dr. Jekyll and Sister Hyde (UK, 1971, Roy Ward)
The good Doctor discovers that his other-side Hyde is a beautiful gal who rides it rough.

---
Phantom of the Paradise (US, 1974, Brian dePalma)
Writer/director Brian dePalma goes baroque in this rock opera released before Rocky Horror, and famously underappreciated.

---
The Long Kiss Goodnight (US, 1996, Renny Harlin)
Turns out, her mad kitchen knife skills come from her emerging killer past.

---
Mr. Peabody and the Mermaid (US, 1948, Irving Pichel)
William Powell catches a mermaid (Anne Blythe) while vacationing with wife Irene Hervey. Psychiatry ensues.

---
Beasts of the Southern Wild (US, 2012 Benh Zeitlin)
The magical realism of transformation and natural evolution through the eyes of a wondrous child.

---
The Lobster (Ireland, 2016, Yorgos Lanthimos)
The last stop for the perennially single is a rehab where failure to couple means losing one's humanity. Also, becoming a lobster.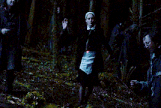 ---
The Guyver (US, 1991, Steve Wang and Screaming Mad George)
An "evil corp" researcher's daughter (Vivian Wu) and her accidental cyborg bf work with rogue agent Mark Hamill.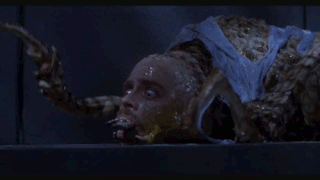 ---
The Golden Compass (US, 2007, Chris Weitz)
What if part of our "self" was an external – even furry – power, comforting and always within reach?

---
Performance (UK, 1970, Nicolas Roeg)
Hiding from a mobster, Chas crashes with Mr. Turner (Mick Jagger), where they and Anita Palinberg will be dancin', dancin', dancin' so pretty.

---
My Fair Lady (USA, 1964, George Cukor)
Pygmalion and the rain in Spain that stays mainly in the plain. So move your bloody arse.

---
Holy Motors (2012, France, Leos Carax)
Driven around Paris, an actor named Mr. Oscar dons one role after the other, in actual settings, in front of seemingly invisible cameras.


---
Donkey Skin (France, Jaques Demy, 1970)
Princess Catherine Deneuve flees her father's lust. How? Magical fairy Delphine Seyrig transforms her into an ass.

---
The Witches (UK. 1990, Nicolas Roeg)
Based on the Dahl book, a boy discovers that 1) there are witches and 2) they plan to turn all children into mice. Angelica Huston is a FORCE.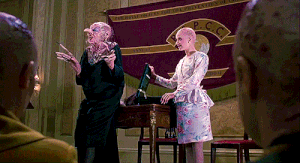 ---
Beauty and the Beast (US, 1991, Gary Trousdale, Kirk Wise, animated)
A tale as old as time. Girl meets boy, clock, and candlestick.

---
Lu Over the Wall (Japan, 2017, Masaaki Yuasa', animated)
A mermaid's siren song propels a village band to pop stardom. Amazing animation.
---
Auntie Mame (US, 1958, Morton DaCosta)
A lover of all things modern tries to raise her nephew to not be a close-minded a-hole.

---
Splice (US, 2010, Vincenzo Natali)
When will movie geneticists not mess with the natural order? Um, never. Hi, Dren. Nice set of wings.
---
The Little Mermaid (US, 1989, Ron Clements, John Musker, animated
Ariel finally figures out what a fork is for. Sebastien is not amused.

---
Defending Your Life (US, 1991, Albert Brooks)
Okay, "little brains," time to show Heaven what you got. Rip Torn, Meryl Streep

---
Calamari Wrestler (Japan, 2004, Minoru Kawasaki)
A giant squid takes on all comers, until banned from wrestling. While he meditates on his fate, other non-humans throw their tentacles into the ring.
---
Eternal Sunshine of the Spotless Mind (US, 2004, Michel Gondry)
Is forgetting someone you love a kindness? If there are no memories, did that love ever exist? Jim Carrey, Kate Winslet, Kirsten Dunst.

---
Labyrinth (UK, 1986, Jim Henson)
What to do when the King of Goblins comes to call? Be careful what you wish for.
---
The Man Who Fell to Earth (UK, 1976, Nicolas Roeg)
On a mission to find water for his drought planet, humanoid Bowie tries to take 70s Manhattan. Candy Clark, Rip Torn, Buck Henry.
---
Possession (France, 1983, Andrzej Żuławski)
The Brood meets Scenes From a Marriage, when Isabelle Adjani and Sam Neill's marriage shatters, the pieces are not what they seem. Not for the faint of heart.